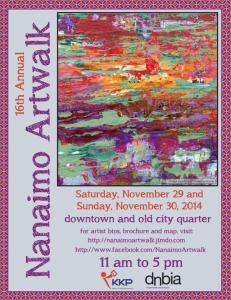 Saturday November 29 & Sunday November 30, 2014
11am to 5pm

Nanaimo, British Columbia is home to an astounding number of incredibly talented and accomplished artists. A good portion of this community comes together once a year to share their creations with you. This year 46 artists who work in a variety of mediums open their studios or set up displays in businesses in downtown Nanaimo to offer work for view and sale.

This year features many new and exciting artists, new locations and many favorites from years before.

We think that you will find this year especially enjoyable. To download a studio tour map please go to the website at www.nanaimoartwalk.jimdo.com

New and exciting this year, Hartmann and Company is displaying the works of 9 talented local fine art painters as a launch to its new fine art gallery! It is #1 on the Nanaimo Art Walk tour map (see website to download). They have a wonderful fine furniture store, the perfect space...